Dr. Ranjan Kumar Akhaury
---
About Him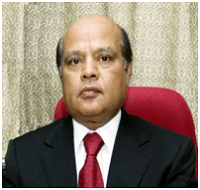 Dr. Ranjan Kumar Akhaury (31/12/1949 – 23/01/2015) is well known as an Eye – Specialist in Bihar & Jharkhand and is Director & Honorary Consulting Eye- Specialist of "Drishti Eye Care & Research Centre". He is widely acclaimed for his services in the field of different kinds of Eye- Surgery & especially for his efforts to make the state "Cataract Free". He is spurred by his mission to get people of Bihar rid of poor vision due to Cataract by doing surgery with modern method of IOL implantation, at his Centre and also by Organizing Camps at remote areas with the help of various Social Organizations.

Born at Patna on 31 December 1949 Dr. Akhaury has natural talent and a brilliant academic career. He attained heights in Clinical and academic fields by his devotion and constant desire to learn. Having obtained M.B.B.S. and M.S. (Eye) from Rajendra Medical College & Hospital, Ranchi (undivided Bihar) he did D.O. and MRC (Ophthalmology) from London. After working for 10 years in various hospitals of U.K. like Chester Royal Infirmary, London and Birmingham Midland Eye Hospital, he returned to India in 1989. Since then he has been serving the ailing humanity with dedication and sincerity as a senior Eye Surgeon. He is actively associated as honorary consultant with Red Swastik Society, Rotary Club, Lions Club, Rehmani foundation (Munger), Bharat Vikas Parishad and Netraheen Parishad. He runs a free Rotary Eye Clinic for poor people at his center in Patna. He has been honorary consultant to Honorable Governor of Bihar also.
His Work & Life
Dr. Akhaury founded "Drishti Eye Care and Research Centre" in 1989. For the first time in Bihar he performed Cataract surgery with Intra Ocular Lens implant (IOL) method and this initiated the new era of treatment for eye-disease in undivided Bihar. He is also credited with doing LASIK Laser Surgery for the first time in Bihar-Jharkhand. With his continuous effort to improve academic training for young doctors his institute is recognized by National Board of Examinations,(NBE) New Delhi, for post graduate course, Diploma of National Board (DNB) in ophthalmology. He has Trainer for Federation of Ophthalmic Research & Ophthalmic Assistant Nalanda Open University .He has attended most of the Annual Conferences of All India Ophthalmological society (AIOS) and has been acclaimed for his research papers. He has also contributed to almost all ophthalmological Indian journals and some International journals. Dr. Akhaury has been pioneer in establishing IOL, Phaco-emulsification, LASIK and Retina & Glaucoma Surgeries in Bihar-Jharkhand & is working whole heartedly to improve Eye Care Services in Bihar.
He has been instrumental in bringing latest method of treatment for eye-ailments for the people and his institute organizes National and State level workshops and conferences at regular intervals. He has been awarded various citations by All India Ophthalmological Society, Lens Implant Society of India and Bihar Ophthalmological Society.

Dr. Akhaury has also been actively associated with various social and philanthropic organizations. He is associated with Rotary International and has been serving the society as a Rotarian in different capacities for more than twenty two years as a member of Rotary Patna Mid town. He has been awarded 'Four Avenues of services citation to Individual Rotarian', 'Certificate of Appreciation', 'Personal letter of Appreciation ' by Rotary International President in 2009, he was awarded citation for meritorious services by Rotary foundation, Rotary international. He was also awarded for his services to the society by Lions Club, Red Swastik Society, Indian Red Cross Society, Takht Sri Harmandir Sahib Prabandhak Committee, Patnacity Vikas Manch and Rehmani Foundation (a minority organization).

Dr. Akhaury has been associated with Bihar Netraheen Parishad since 2005 and is its President since 2009. This Parishad is dedicated for the upliftment of blind population in Bihar & runs a free residential school in Patna for Blind Girls for last 15 yrs. He works for vocational training of blind and arrangements have been made for Computer Teaching also in this blind school. In his ancestral village (Etwarpur Pakri) in Vaishali District he is running a free medical centre in which specialist Doctors of State provide their services from time to time. In this village he also runs a free School "Ganesh Datavya Vidhaylya" in his residence for slum children. He is also associated with "Kishore Dal" an orphanage for deprived children.

He has done more than 50,000 Cataract Surgeries with IOL method in camps organized by various social organizations in village of Vaishali, Munger, Patna and around. He is dedicated to make his panchyat "Etwarpur Pakri" village free of cataract and determined to extend this service in other areas also.

For his professional excellence and social commitments Dr. Akhaury was honored by the Indian Medical Association, and was awarded "Dr. Swami Nandan Award" for outstanding contribution in Medical field. For his contribution to improve Ophthalmological services in Bihar he was awarded by His Excellency the Governor of Bihar Mr. R. S. Gawai in 2008 during Annual conference of BOS in Patna. Dr. Akhaury is credited with doing highest number of Cataract surgery in Bihar and Jharkhand. He is also a Past President of Bihar Ophthalmological Society.